To stay healthy and fit, it is often advised to maintain a balanced and highly- nutritious diet that serves definite health goals. For example, if you are looking to lose weight or desire to gain some muscle masses, make sure to define your diet plan according to your goals in order to obtain fruitful results. Experts suggests that consumption of 2500 calories each day are ideal to maintain optimal levels of health and fitness, especially in average-built healthy males. The daily calorie intake is the primary concern when it comes to individuals of different demographic profiles (such as age and level of physical activities). According to the National Institute of Blood, Heart and Lungs, the required amount of calories required each day may range from 2000 to 3000. But men with high body fat mass and significant obesity must follow a 2500-calorie meal plan to achieve optimal but healthy weight loss.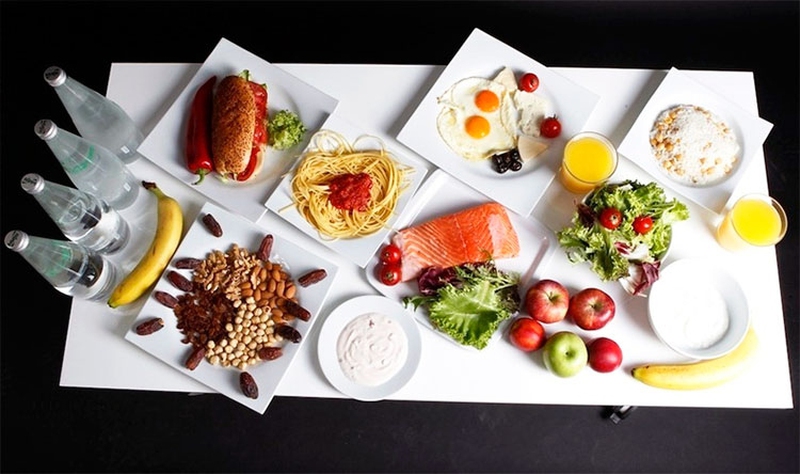 2500 Calorie Meal Plan
1
Protein
The intake of protein for individuals who are looking to follow the 2500 calorie meal plan should be roughly about 6.5 ounces each day. It is highly recommended to consume a variety of proteins from foods such as seafood, chicken, meat, soy products, nuts and eggs. 1 ounce of seafood, meat or poultry element with an egg, 1/4th cup tofu or half ounces of nuts/peanut butter are equivalent to 1 ounce protein food.
2
Foods loaded with fiber
2 cups of fruits and 3.25 cups of vegetables supply enough fiber to maintain optimal gut and digestive functions on a 2500 calorie diet. You can opt for any fruits and vegetables with high quality fiber, minerals and vitamins. If you are taking 1 cup of fruits, then it's equivalent to 1 cup of fresh fruit juice. Talking about vegetables, 1 cup of veggie juice is almost equivalent to 1 cup of fiber-filled organic vegetables (cooked or raw).
3
Whole grains
When you are following 2500 calorie meal plan, make sure to maintain adequate whole grain intake as well. Ideally, about 8.5 ounces a day is recommended to individuals on a 2500-calorie diet plan. It is suggested to take whole grains rather than refined carbs due to much higher amounts of fiber and nutrients in them. You can consume it in multiple forms like whole wheat bread, cold cereal, quinoa, whole grain rice or pasta. However, 1 ounce of whole wheat grain is equivalent to a slice of whole wheat bread.
4
Low fat dairy products
Intake of dairy product (with low fat) increases the propensity to obtain desired results under 2500 calorie diet. 3 cups of dairy product are suggested for men when following this diet. Low fat products reduce the risk of heart diseases and also increased the intake of good quality cholesterol in the body. A cup of low–fat milk or yogurt or 2 cups of cottage cheese (low-fat) or 1.5 ounces of cheese (low-fat) are equal to one cup of dairy food group.
5
Take fats but healthy ones
There are some fats that can help in minimizing the risk of heart disease, such as saturated fats or trans-fats. So, if you are following 2500 calorie meal plan, it is advised to take around 7 tablespoons of high quality fat each day. You can also consume it via plant-based oils which are equivalent in terms of fats. Or you can also opt for nuts, nut butter or olives; however, 1 tablespoon of edible oils are equivalent to 1/3rd ounces of nuts, 8 large olives or 1 ½ teaspoons of nut butter.
2500 Kcal Meal Plan
1
Breakfast

Cereal (whole-grain)-2cups, egg-1, melon-1cup, low fat milk-1 cup

Total of 380 calories

Snack

1 blueberry muffin, butter-1 tablespoon

Total of 400 calories

Lunch

Asparagus, mushroom beef and a small orange

Total of 506 calories

Snack

Low or non-fat yogurt-1 cup, whole grain crackers-5, almonds-1 ounce

Total of 460 calories

Dinner

Chicken and veggies Cuban, brown rice-1 cup, orange juice-1 glass Total of 505 calories

Bedtime snack

Yogurt(fat free)-150gm, blueberries-1 cup, granola (low fat)-1/2

Total of 249 calories
2
Plan 2
Breakfast

Cereal-3/4th cup, milk (low fat)-1 cup, banana-1 medium sized, cream

Total of 347 calories

Snack

Fruit yogurt (low fat), apple-1 medium sized

Total of 259 calories

Lunch

Turkey breast-3 ounces, cheddar cheese-2 cubic inch, mayo-0.15 cup, whole wheat bread-2 slices, apple-1 medium sized, orange juice of 1 orange

Total of 722 calories

Snack

Skim milk- cup, graham crackers-4

Total of 220 calories

Dinner

Chicken breasts stuffed with tomato and spinach, served with mashed potatoes, green beans served with almonds-1 cup, apple (baked)-1, green tea-1 cup

Total of 634 calories

Bedtime snack

Chocolate cookies (non-fat)-3, vanilla ice cream-1/2 cup, milk-1 cup

Total of 318 calories
3
Plan 3
Breakfast

Cereal-2 cups, banana-1 medium sized, raisins-1 box, milk-1 cup, orange juice of 1 orange

Total of 602 calories

Snack

Crackers (low-fat)-6, pears-2, berry smoothie

Total of 224 calories

Lunch

1 Turkey sandwich, salad-1/5th cup, strawberries-1 cup, apple juice-1 cup

Total of 522 calories

Snack

Kiwi-4 medium sized, fruit drink mix-1(sugar free)

Total of 200 calories

Dinner

Turkey meatballs with cherry tomato, spaghetti- 1 cup, spaghetti sauce-1/2 cup, salad with dressing- ½ cup, grapefruit juice-1 cup

Total of 692 calories

Bedtime snack

Milk-1 cup, chocolate éclair (low fat)-1

Total of 260 calories
ANY IDEAS ABOUT THIS TOPIC?