Single parents are challenged with finding ways to cut costs wherever they can, and that reaches into so many aspects of everyday life.
Today, one of the trickiest challenges I am faced with is how to keep my kids entertained on a budget. Sure, the TV and Xbox could keep them amused for hours on end, but I don't want to have them zoning out in front of the tube. So, with very little money for entertaining, how do you keep the young ones happy and fulfilled? Here are some ideas that I use.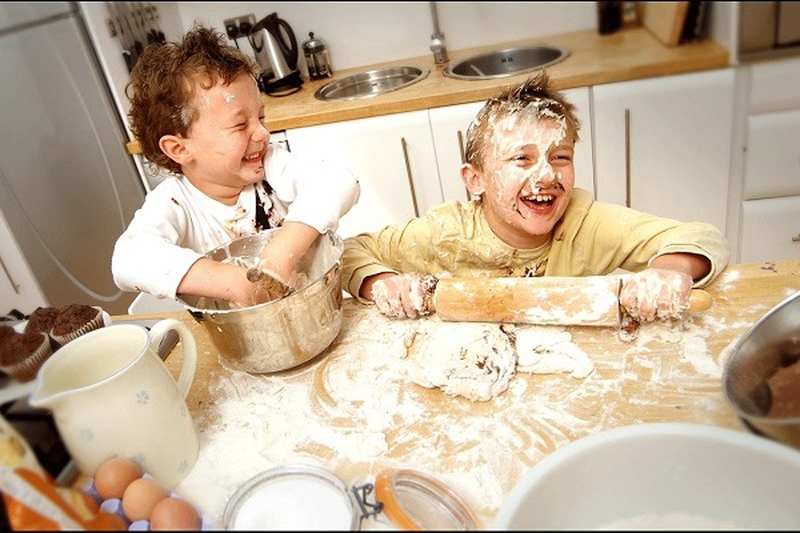 Part 1
1
Get Baking
There are three reasons that this is a great way to pass the time with your kids. First, you're teaching them a practical skill that they can use later. Second, you're saving money. By baking your own breads, cookies, and cakes, you're not spending money on pre-packaged goods full of additives and preservatives.
Most important of all, it's actually a lot of fun — kids love to help and get involved. They also like to see what their hard work has helped them achieve. When you taste those cookies, or a slice of warm banana bread, you'll enjoy their reactions as much as they enjoy the sweet treats.
2
Artwork Is a No Brainer
I don't just mean it's an obvious way to spend your time with the kids for next to nothing. It's also a chance to shut your brain off from all the hectic stresses of life, and be a kid again yourself.
Set up the dining room table with paper, crayons, paints, markers, and anything else they need to be creative. Then, join in — don't just leave them to it. This is good bonding time, and you will enjoy yourself just as much as they do. I like to frame pieces of artwork that my kids have created (I only ever pay $1 for my frames at thrift stores) and have created a gallery we're all proud of.
3
Set Up a Home Spa
My girls are 10 and 8, and they love being pampered. I'm a guy, but I'm not afraid to get out the nail polish and curling irons. Put on some relaxing music, let them feel like the princesses they are, and get creative with it. You can make their nails look like bees, ladybugs, or chalkboards — it's all very easy after a while and tons of fun for everyone. And if you have little boys, don't think they don't deserve something similar. My toddler wanted his nails painted a boy-approved black and blue, and I obliged. He loved it. Older boys may not be interested, but spray-in hair colors and waxes can give you some punkish results.
4
The Library Is Your Friend
There is more to the library than just books and movies. Your library often has special events, including authors who will read aloud from their latest best sellers. They also have movie screenings, and host discussion groups and fun family activities afterwards.
5
Go to Museums and Parks on Free Days
Every museum and park will give out free passes on certain days of the year. Mark these days down on the calendar, and when they arrive, make sure you get the kids there to experience nature, or to learn about art, history, and geography.
6
Decorate a Bedroom
You can buy a few cans of "oops paints" for 70-80% off the regular price. Dig around whenever you're in a home improvement store, and if you find the perfect shade, you can repaint their bedrooms for under $20. But, do it with them — the older kids can do some of the big painting, while the younger kids love helping out with smaller areas. Just make sure they have on old clothes, and you have a drop cloth down. Let them have fun with it. They will love helping you paint their own room.
7
Volunteer
It's a great way to fill their time, and get them learning about life. A pet shelter is a good cause to start with. They will love seeing all the animals, and helping out with food, cuddles, and walks. You could also see if other local charities have space open for kid volunteers. It's wonderful to give back to the community, and it gives kids a sense of accomplishment and pride.
8
Visit a Cheap Movie Theater
Yes, these theaters get the movies long after the major chains have shown them. So what?! Kids shouldn't care about being the first to see it. Mine certainly don't. What they do love is the chance to go and see a new release (and it's way more affordable than seeing first-run flicks). On a recent visit to the movies, I saw Big Hero 6 with my three kids. I bought them popcorn and slurpies, plus we shared a bag of Twizzlers. The entire outing cost a mere $29. Try doing that at a full price theater.
9
Get Out the Board Games
Sure, we live in an electronic world — but does that mean those great board games have to gather dust in the basement or garage? Dedicate one night a week to games. You can find used (and often new) board games at thrift stores for as little as $2; just check to see if they have all the pieces first. Your kids will enjoy spending time with you in a way that is more stimulating than just sitting in front of the TV.
10
Just… Play!
Hide and seek. Soccer. Tag. Charades. Twister. Name that tune. Your kids will not want to play with you forever, so cherish the times they want to be around you. You may often find yourself saying "Oh, I'm too old for that." Shame on you. Sylvester Stallone is a senior citizen and he's jumping out of planes and fighting bad guys. It's just a bit of fun around the house. Who knows… you may actually enjoy yourself more than they do!
ANY IDEAS ABOUT THIS TOPIC?